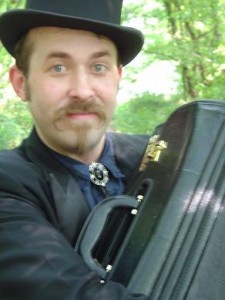 Math-A-Magic is Hagerman's newest show to hit schools featuring Hagerman's great sense of humor and spectacular magical talents. This show has everything audiences want to see: comedy, magic, audience participation, and of course, math!
Math can be fun and this show proves it. It invokes a sense of wonder in children when they see miraculous things done with concepts they know.
Learn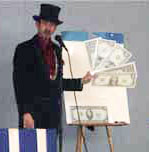 How not to be cheated at the cash register.
Why optical illusions confuse our brains.
How mathematical progressions can increase your allowance to over $2,000,000 a month.
The secret magical properties of 9. (for older audiences)
Witness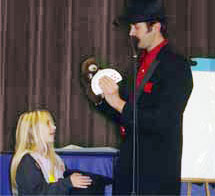 An audience member predict the sum of randomly chosen numbers.
Basic addition and subtracting featuring the very rare "Ouh-Ah" egg.
Fuzzy, (a very cute and adorable bear puppet), testing his ability to recognize a number chosen by a spectator.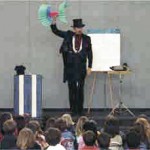 Math in everyday life is often over looked in little minds. When allowance is brought up, the children listen. When they learn they can perform magic with homemade Mobious strips, their eyes light up. When an optical illusion of a 2D duck turns into a very real 3D decoy duck, they are shocked! This show features two of Hagerman's most cherished routines: Fuzzy the Bear and The Troublewit.
If you have seen any of Hagerman's other educational shows, then you know the quality to expect with Math-A-Magic. It makes an excellent addition to his unique line of exciting educational programs.