Everybody was blown away by your show, it was perfect for our event and your talent far exceeded anybody's highest expectations. – Jeanine Cohoon, event planner, St Louis MO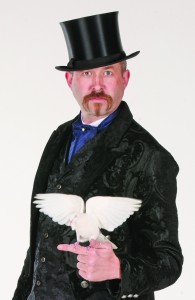 Hagerman, (pronounced "Hay-gur-man"), is the first and last name you need to think of when it comes to professional, original entertainment. Hagerman spent over two decades perfecting his comical talent at theaters, theme parks, and schools all over the country. From bikers, to CEOs, to school children, this polished artist elegantly entertains most anyone, at most any age, at the same time!
Hagerman travels the country and is truly one of the nation's best kept secrets.  Due to the sensitive nature of his art, his does little to publicize and only people who knew of him by name had been able to find him until now.  Thank Google!
How to Find a Great Comedy Magician!
When you search for a professional comedy magician, how can you be sure of their claims or talent? They all have an edited video of their best moments and seem to have won awards. These videos can be very misleading – especially if you never hear them speak.
In Hagerman's promotional sample video all the best laughs and routines are hidden! If you like what you see here, you will love what you see live and in person. Finding a great entertainer boils down to qualified recommendations and Hagerman has references that speak for themselves.
Hagerman is the most professional, most original, most authentic magician I've seen in the past ten years. He is a one of a kind performer. Hagerman cares enough to get it right, to get it done. He's the real deal! – William Watters, Branson Reviewed, Branson MO
Vaudeville Magic

As a scholar of comedy, Hagerman puts many great belly laughs into each of his shows. As an inventor of magic, his routines are often sought after by other magicians. Peers label his style as intelligent, charming and fresh.
This animated performer is ready to make your next event, meeting, or party particularly memorable. When they ask you, "Where did you find him?", you will know people are impressed.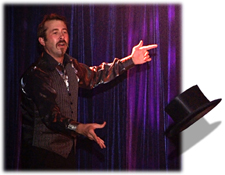 Hagerman is a true artist and only performs live and in person. To protect his unique art from copycat entertainers, he will not perform for TV or home movies and has very limited promotional video options. If you are interested in viewing a full promotional video, please contact us with the name of your organization and budget.
State Tag Cloud:
Alabama, Alaska, Arizona, Arkansas, California, Colorado, Connecticut, Delaware, Florida, Georgia, Hawaii, Idaho, Illinois, Indiana, Iowa, Kansas KS, Kentucky, Louisiana, Maine, Maryland, Massachusetts, Michigan, Minnesota, Mississippi, Missouri MO, Montana, Nebraska, Nevada, New Hampshire, New Jersey, New Mexico, New York, North Carolina, North Dakota, Ohio OH, Oklahoma OK, Oregon, Pennsylvania, Rhode Island, South Carolina, South Dakota, Tennessee, Texas TX, Utah, Vermont, Virginia, Washington, Washington DC, West Virginia, and Wisconsin.
City Tag Cloud:
St. Louis magician, STL, Saint Louis MO magicians, KC Magician, Kansas City MO magicians, Tulsa OK magician, Oklahoma City magician, Springfield MO magician, Houston TX magician, Dallas magician, Columbus OH magician, Joplin MO magician, Topeka KS magician, Wichita KS magician, Branson magician, Lake of the Ozarks magician, Lake Ozark, Osage Beach MO magician, Columbia MO magician