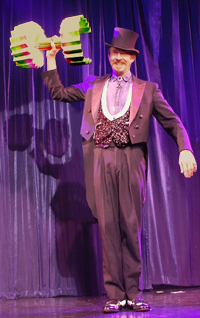 Premium Comedy Magic, School Science Assembly Programs and the Extreme Science Assembly.
I can honestly say that I have never thought that a show was so great that I would be willing to invite them back for two years in a row. – Cynthia Bice, Rolla, MO
Hagerman the Magician performs all over the country and is based in the Midwest.  He offers premium entertainment services to theme parks, fairs and schools that may not be available via local means for locations within 1000 miles of base.
Comedy Magician
Hagerman's Vaudeville Magic show is a great way to entertain large groups.  His humor is excellent and his magic is highly polished and original.  Hagerman captures the unique flavor and appeal of a classical magician and makes the it his own.  He is the quintessential magician.  Don't be fooled by other magicians!
School Assemblies & Science Programs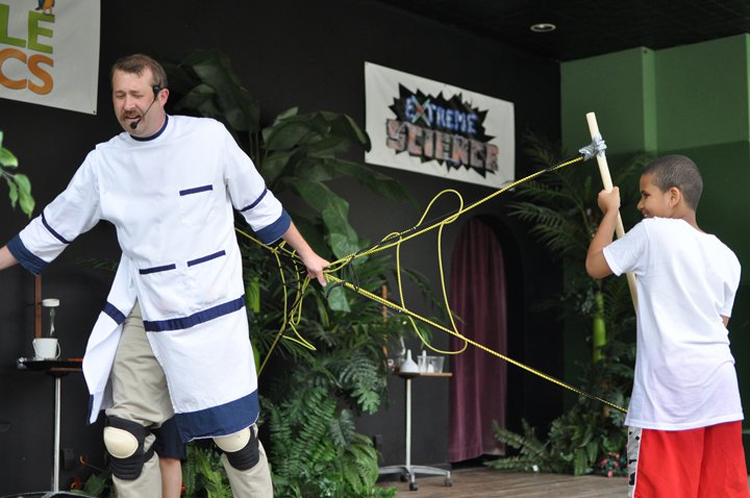 Hagerman has been performing comedy school assemblies since 1995.  His highly acclaimed science assembly, Extreme Science, is one of the best and funniest science shows available to elementary schools, middle schools and amusement parks.  Math-A-Magic, Hagerman's math assembly, combines humor, magic and math into an educational, yet entertaining performance.
Availability:
Although Hagerman performs from the East to West coast, Hagerman actively markets the following areas for comedy magic performances and exciting science assemblies:

Available States:
Alabama, Alaska, Arizona, Arkansas, California, Colorado, Connecticut, Delaware, Florida, Georgia, Hawaii, Idaho, Illinois, Indiana, Iowa, Kansas KS, Kentucky, Louisiana, Maine, Maryland, Massachusetts, Michigan, Minnesota, Mississippi, Missouri MO, Montana, Nebraska, Nevada, New Hampshire, New Jersey, New Mexico, New York, North Carolina, North Dakota, Ohio OH, Oklahoma OK, Oregon, Pennsylvania, Rhode Island, South Carolina, South Dakota, Tennessee, Texas TX, Utah, Vermont, Virginia, Washington, Washington DC, West Virginia, and Wisconsin.

Available Cities:
St. Louis magician, STL, Saint Louis MO magicians, KC Magician, Kansas City MO magicians, Tulsa OK magician, Oklahoma City magician, Springfield MO magician, Houston TX magician, Dallas magician, Columbus OH magician, Joplin MO magician, Topeka KS magician, Wichita KS magician, Branson magician, Lake of the Ozarks magician, Lake Ozark, Osage Beach MO magician, Columbia MO magicianSt. Louis MO, STL, Saint Louis MO, KC MO, Kansas City MO, Tulsa OK, Oklahoma City OK, Springfield MO, Houston TX, Dallas TX, Columbus OH, Joplin MO, Topeka KS, Wichita KS, Branson MO, Lake of the Ozarks MO, Lake Ozark, Osage Beach MO, Columbia MO